How it started
The inhabitants of the parish have launched a new community organisation in 1991 after the restoration of the outer walls of the Roman Church to promote the Church and its historic site.
Its aims
This organisation, abiding by the 1 july 1901 law, has been set up with the aim of promoting the material, architectural as well as cultural elements which can be found in the parish. besides the Roman Church.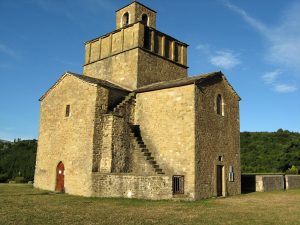 Its resources
They come mainly from its members who contribute 10 €uros a year. Then they come from the numerous cultural events set up here. And finally from the donations.
Its members
On 1st January 2009, the organisation claimed 200 members.
The events the organisation sets up
Every weekend in July and August, you are welcome in the Church (open day, from 10 to 12, and from 3 to 7pm).
From July 1st to August 31th: free commented tours round the church happen every week day from 10 to 12 and from 3 to 7pm.
Membership
You can become a member by sending a 10 €uros cheque to our address:
Comps Historique – Mairie – 8 place de la Liberté – 26220 COMPS. FRANCE